Introducing Marine Serre Visionizer made by Vuarnet
VINTAGE VUARNET REIMAGINED BY THE FRENCH DESIGNER MARINE SERRE
Marine Serre and Vuarnet come together to create a progressive eyewear collection ecologically responsible and rooted in the past.
Marine Serre's Visionizer made by Vuarnet is a modern fine collection, characterized by the unique savoir-faire of the handmade heritage and methods.
The inspiration for this partnership between Marine Serre and Vuarnet comes from a search for authenticity in which Marine Serre has redesigned a Vuarnet archive frame, revamping the silhouette with a bent metal loop that encircles the crescent moon. An inspiration influenced by the post-apocalyptic movie Mad Max by George Miller.

Both independent French brands, Marine Serre and Vuarnet are committed to adopt an engaged ecological ap- proach in their design and production practices. The Visionizer made by Vuarnet is designed wisely, using natural, biodegradable, and recycled materials. Its components and packaging have been chosen carefully, to conceive a product that respects and aligns with the values and vision of Marine Serre and Vuarnet.
Marine Serre's Visionizer features the Vuarnet Mineral Lynx™️ lenses technology which provides best protection from sunlight directed to the sensitive upper part of the eyes, and from the light reverberation on the lower part of the eyes, a technology that guarantees a pure vision clarity thanks to the bi-layered mirror treatment.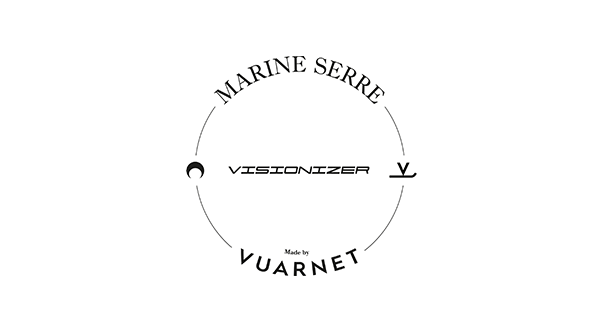 Available in three colors variants, all Vuarnet's lenses are scratch-resistant and ultra-solid.
The Vuarnet BrownLynx™️ and Pure Brown Bronze Flash lenses offer the highest level of eye protection, optical definition, and visual clarity. The BrownLynx™️ excels in natural landscapes protecting against 93% of Infrared and 100% of UV. It provides high comfort for the eyes reducing the glare sensation caused by intense light.
The Vuarnet yellow NightLynx™️ lenses provide excellent vision in low light conditions and protect against 100% of the harmful blue light coming from electronic screens.
Price 400$ / 300 EUR
The Marine Serre's Visionizer made by Vuarnet collection is available at MarineSerre.com, Vuarnet.com, Vuarnet shops in Paris and NYC, and selected retailers.
Free Delivery
in France, within 2 to 4 working days.
Discover More
2 year-warranty
Be safe, our 2 year warranty covers any manufacturing defects.
Discover More