Adrian Ballinger Makalu
Vuarnet Fellow Adrian Ballinger (@adrianballinger) completed the first recorded ski descent from the true summit of 27,766 foot Makalu, the world's fifth-highest mountain on Monday, May 9, 2022. Ballinger and his climbing partners Dorji Sonam Sherpa and Pasang Sona Sherpa reached the summit at 9 a.m. in whiteout conditions. The team was the first to reach Makalu's summit this year.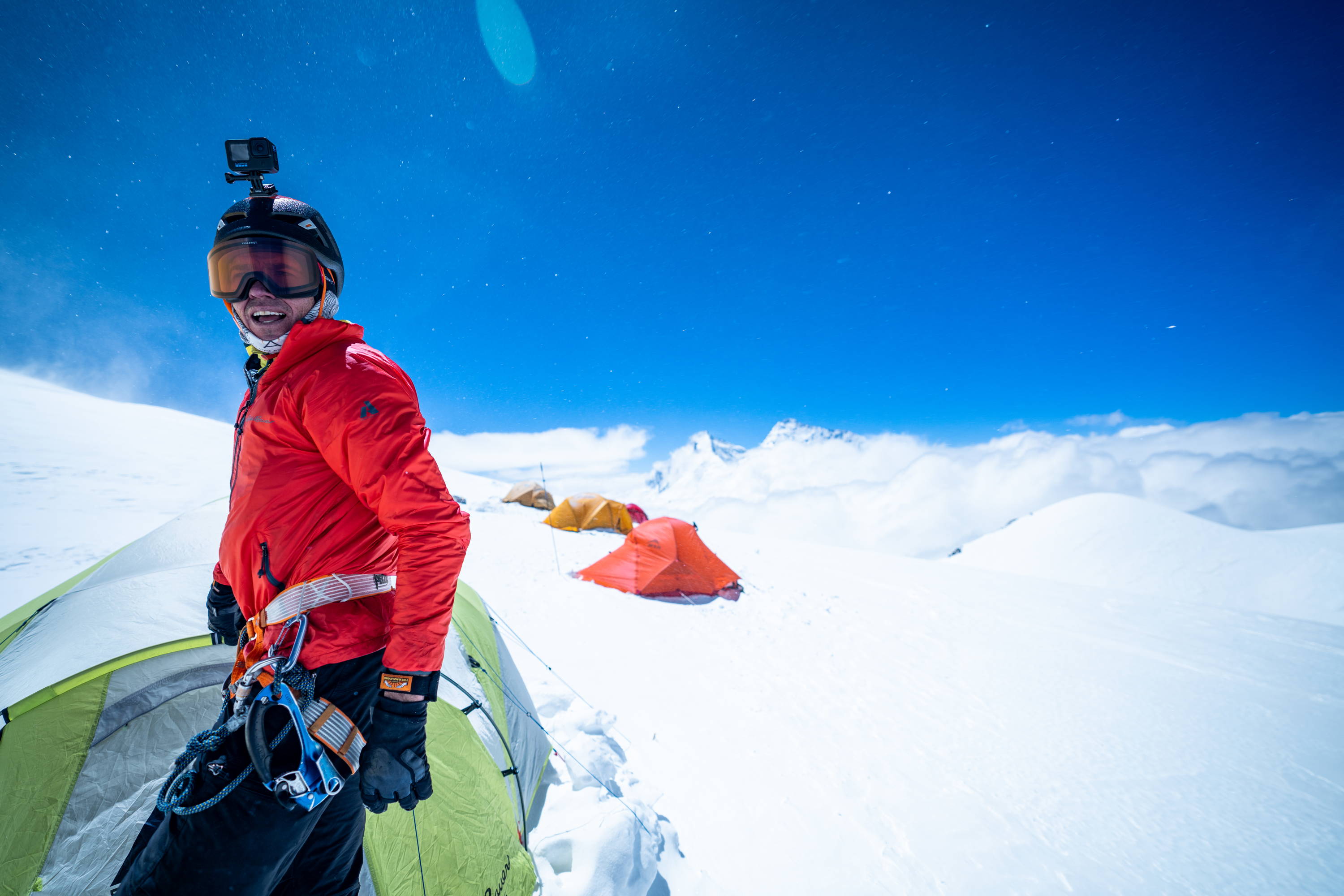 This was a huge accomplishment; one you've been working towards for years. What originally inspired/drove you to Makalu?

Makalu, the 5th tallest mountain in the world, sits just a few miles from Mt Everest. But it's most famous because of how different it looks from the other mountains. It is a beast! Not only tall, but also really foreboding, with very steep walls and lots of rock (instead of snow). On my decades of expeditions to other mountains in Nepal (including 13 years on Mt. Everest) I was always inspired and intimidated by how steep and technical Makalu looked. This steep and technical nature also leads to Makalu's second draw for me. It was one of only two 8000-meter peaks (the 14 tallest mountains in the world are over 8000 meters tall) that had not yet seen a ski descent.
How does it feel to be successful in your goal?

Haha it feels great! A combination of relief and contentment. Relief that it is finished and that nothing went bad (there was quite a bit of risk in the nature of the steep exposed skiing). Contentment from achieving a goal that encompassed years of attempts and planning, and a year of dedicated training. It all paid off in a really meaningful experience!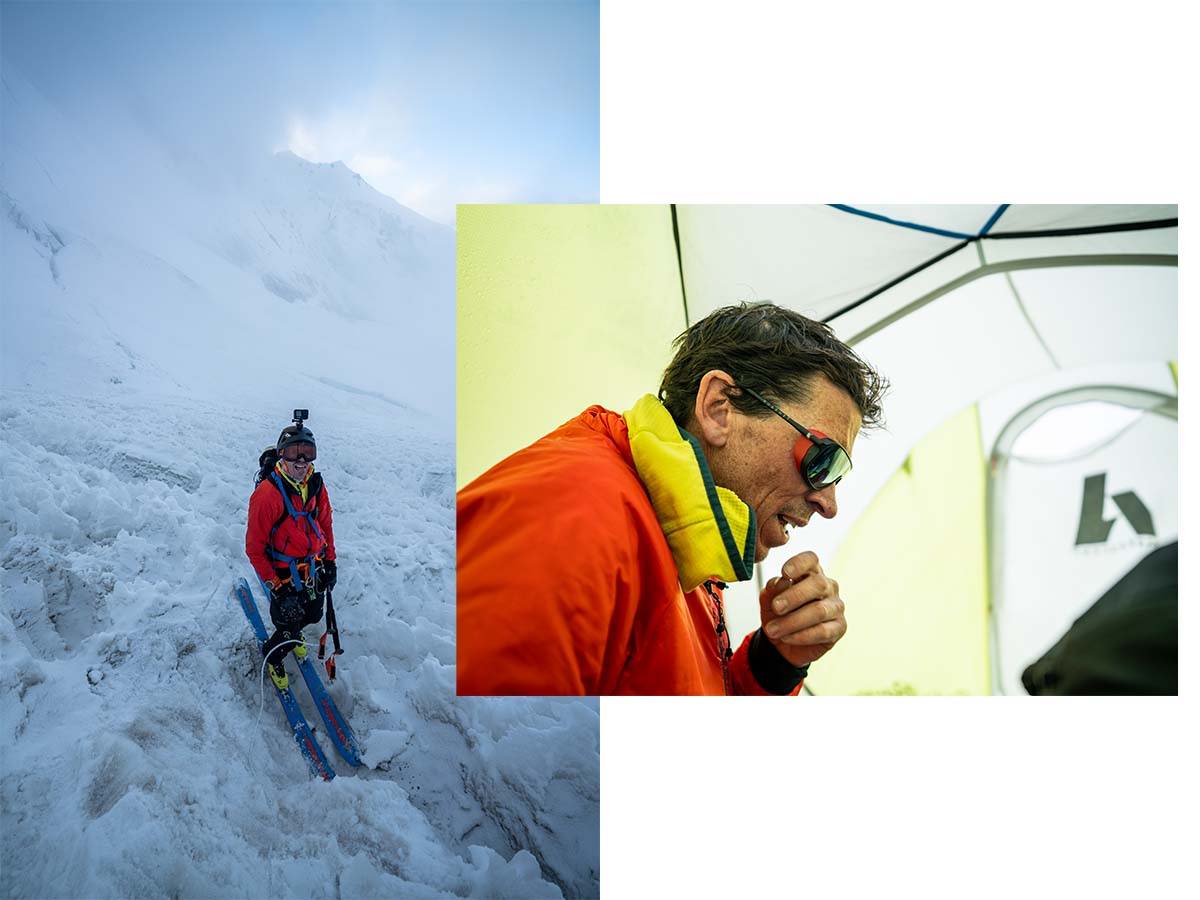 How did you prepare for this expedition?

First and foremost, I prepared through years of slowly building experience in two areas - steep skiing, and climbing 8000-meter peaks. But specifically for this expedition: after 2 years focused on rock climbing, I spent the past year building back my aerobic base, key for climbing and skiing at high altitudes. Then I spent the winter focused on steep skiing. I live in Lake Tahoe, and split my winter between here and the Alps in Switzerland. I tried to focus my season not on powder skiing, but on steep, firm technical lines, often not when they were in "good" condition. I knew this type of skiing would most closely represent what I'd find on Makalu.

What went right this time?

First and foremost, my climbing team was incredible. While I was the only skier on the mountain and made my descent alone, I did all my climbing with the team from Alpenglow Expeditions, which included 5 Sherpa, 4 Ecuadorians, and another American, all super talented climbers with lots of 8000-meter peak experience. We fixed ropes on the mountain, were the first team in 3 years to summit Makalu, and just had so much fun. This team made it possible for me to focus on the skiing, and to feel more comfortable taking risk on the mountain.

The other thing that went right was the weather and snow condition. In 2012 and 2015 I failed to ski Makalu due to high avalanche danger. This year, the lack of snow, while dangerous in its own way, made the risk more under my control verses the random risk of avalanches. This year, the risk was from falling on steep firm slopes. It was up to me on each turn to mitigate this risk with good skiing. This made the overall experience safer.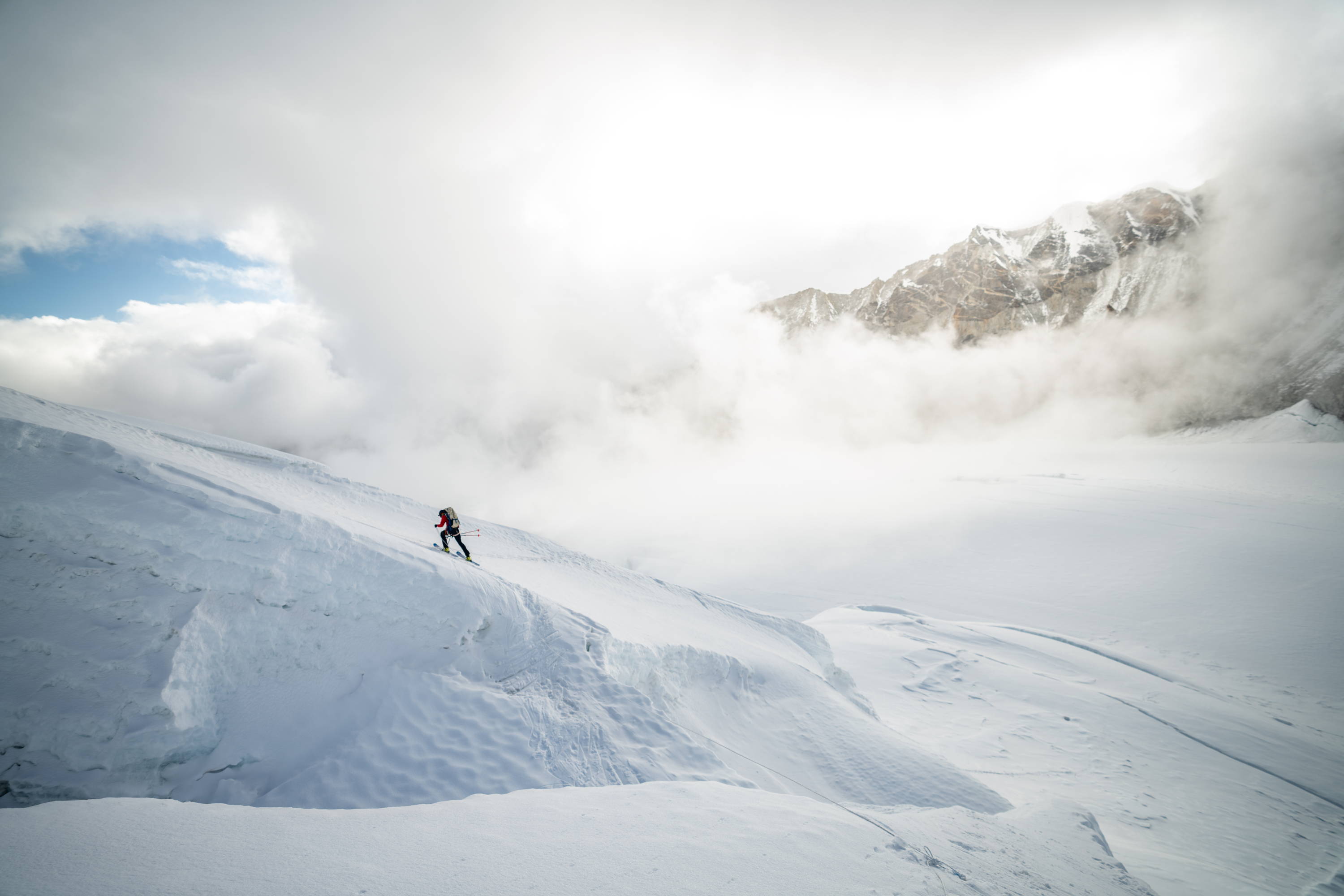 Favorite moment?

Making the last turns into Camp 2 at 22,000 feet, where most of my climbing teammates were waiting for me. While I still had 3,000 feet to ski, I had at this point skied most of the dangerous stuff, and I had skied the lower mountain multiple times while acclimatizing and knew I could do it again. It felt so good to be with the team I had worked so hard for this with, and to be able to ski off onto terrain I knew and was confident on. Plus the sun was setting and it was stunning :).

Biggest challenge, and how you overcame it?

Managing risk. I'm not sure I did overcome it. I just took it moment by moment and made choices, literally each turn, if I was within my margin of safety. I think I was humble about my abilities, took it slow (skiing 8000 vertical feet took almost 11 hours, after a 7 hour climb to the summit from Camp 3), and utilized all my experience on big mountains to get down safe.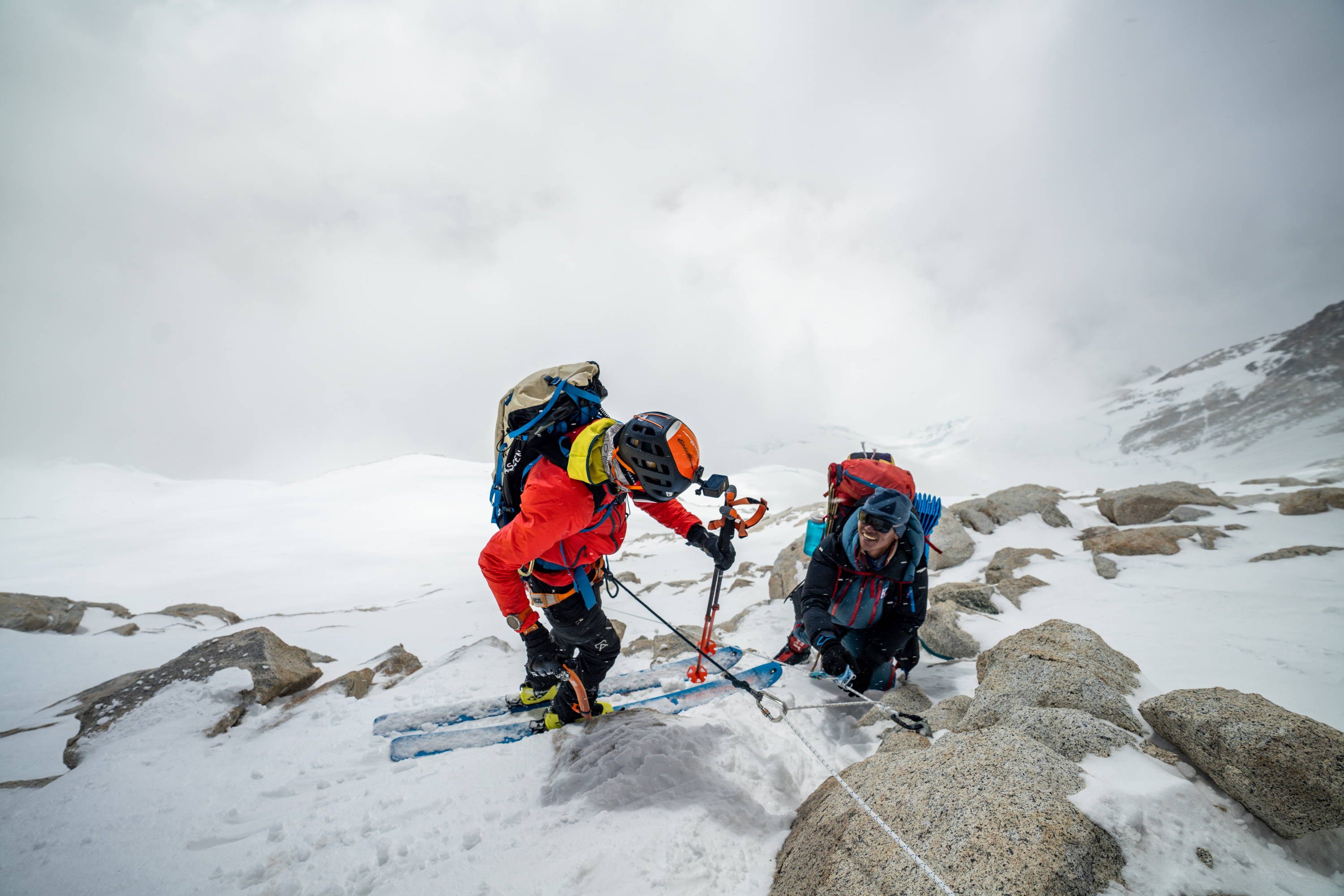 What Vuarnet gear worked well for this trip?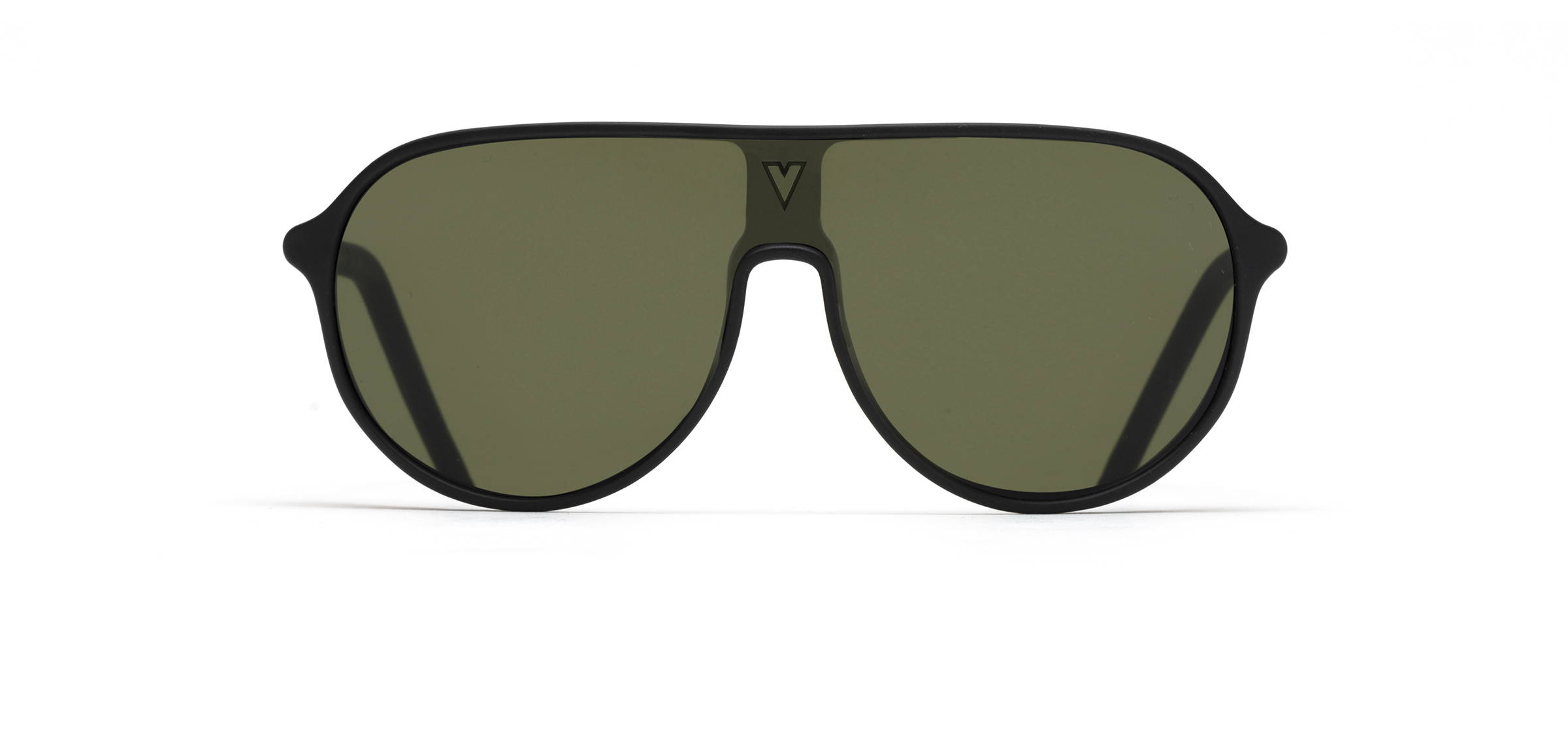 Ski Goggle Large (Magnetic) - amazing clarity, field of view, and ease of switching lenses
ICE 1931 180 Large - great coverage, optional side shields, awesome lenses, great fit on my face, lightweight feel
ICE 1930 180 Medium - great coverage, optional side shields, awesome lenses, great fit on my face, lightweight feel
Legend 03 - great for base camp life and travel
Free Delivery
in France, within 2 to 4 working days.
Discover More
2 year-warranty
Be safe, our 2 year warranty covers any manufacturing defects.
Discover More